A population explosion that radically changes agricultural activity
Since the 1950s, the world's population has peaked in growth from less than 3 billion to more than 7 billion in 70 years[1]. The population has grown and technological revolution has radically changed consumer habits. Today, they are many challenges to meeting this new demand, and the agricultural industry must adapt to remain competitive. Agricultural professionals are tasked with finding new solutions to meet higher production requirements, dealing with economic constraints, and considering environmental impacts, worker safety and animal welfare.
Automation of agricultural processes
Over the years, automation enabled the agricultural industry to better meet the increasing demand and manage their business more effectively while remaining competitive. Progress in agricultural machinery has made it possible to handle repetitive tasks and significantly increase productivity. Moreover, a high level of planning and process control has allowed farms to be more efficient and to maximize profitability with fewer losses and impact on the environment.
The electric linear actuator synonymous with profitability
Electric actuators play a major role in the modernization of the agriculture industry. They can operate a multitude of movements, orientations, in a synchronized way, and can meet different mechanical needs (push, pull, …), making agricultural machines accurate and versatile.
The electric actuators are typically used for the measurement of fertilizers, grain and food. Using electric actuators on gates makes it possible to release different products with precision and optimize profitability by reducing loss. In the same way, electric linear actuators are used in the control of air conditioning and ventilation by actuating the ventilation openings. Thus, the environment remains in optimal conditions and preserves the welfare of animals.
Electric actuators can also adapt to new trends. With the rise of responsible and ethical consumption in recent years, the demand for organic farming is increasing. With a high level of control and planning, the use of electric actuators makes it possible to integrate new, more precise and environmentally friendly processes, by avoiding waste.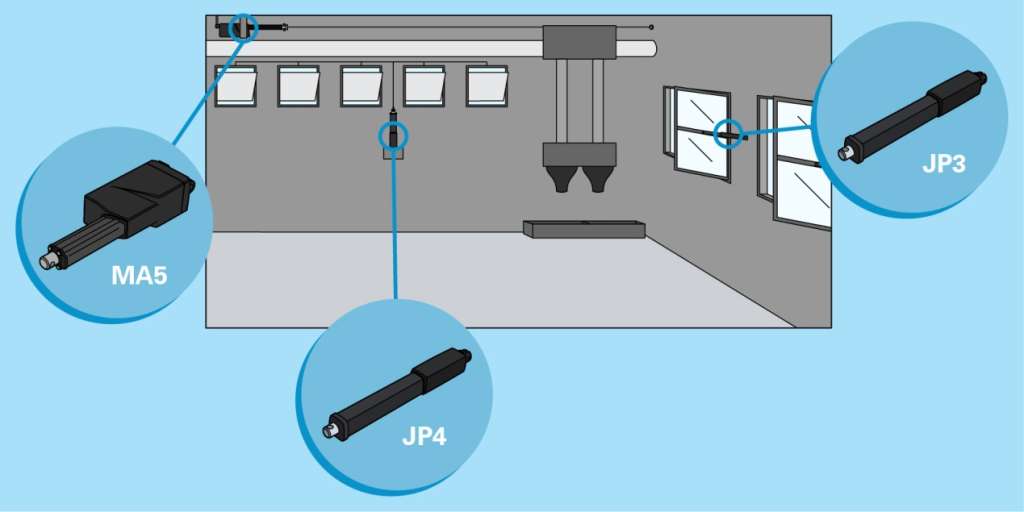 Improvement of working conditions
Workers' safety is an essential aspect of today's agricultural activity. New agricultural methods have led to health risks (harmful products, dangerous machines…). Although the machinery has reduced the physical intervention of human beings and preserved them from risky tasks, their size and functionality can still cause accidents. Therefore, it is important to maximize the ergonomics of the devices to maximize user comfort and the ability to adjust safely.
Electric actuators will allow them to release fertilizers and other products in a precise and automated way, but also to adjust seats, steps, hoods, windows or any other component of the vehicle, by simply pressing a button, and without any physical intervention. In addition, many emergency features will help keep them safe if something goes wrong.

Our company solution
Our company offers complete and specially designed solutions for the agricultural industry.
MA1
and
MA2
electric actuators are particularly suitable for harsh environments and extreme conditions. The MA2 comes with optional Reed switches, which allow the user to adjust the stroke and gain control and precision. With a grease nipple that gives it a higher level of protection, the
MA5
is particularly suitable for agricultural machinery.
The
JP3
and
JP4
electric linear actuators are compact models that adapt to tight spaces and can support high loads and speeds. They can also be equipped with Hall sensors, that allow the positioning adjustment of the actuators in a synchronised way, making them particularly adaptable.
All of these models are compatible with most agricultural machines and can be equipped with additional protection options against high-pressure water jets, dust and other solid contaminants. These protections make Our copmany actuators particularly resistant and adapted to the specific conditions of agriculture.
Electric actuators are now essential in the management of agricultural processes. They make it possible to optimize the profitability of the farms and to meet the growing demand while remaining competitive. With a high level of accuracy, the losses and the impact on the environment are reduced, animal welfare and user comfort are preserved.
Moreover, they are a good alternative to hydraulic or pneumatic actuators since they prevent oil leaks and other inconveniences related to pipes or compressors. Thus, they benefit of a longer life and their maintenance needs are almost non-existent.For further information, feel free to contact
our commercial service
!